School Portal Page
We created a School Portal Page where you can download media such as letters flyers posters along with presentation and certificates.
You asked us to create something you could use that will show you all the details we hold for you, such as payments, emails addresses, collection values, dates we collected and even future dates you have booked. So we did!!!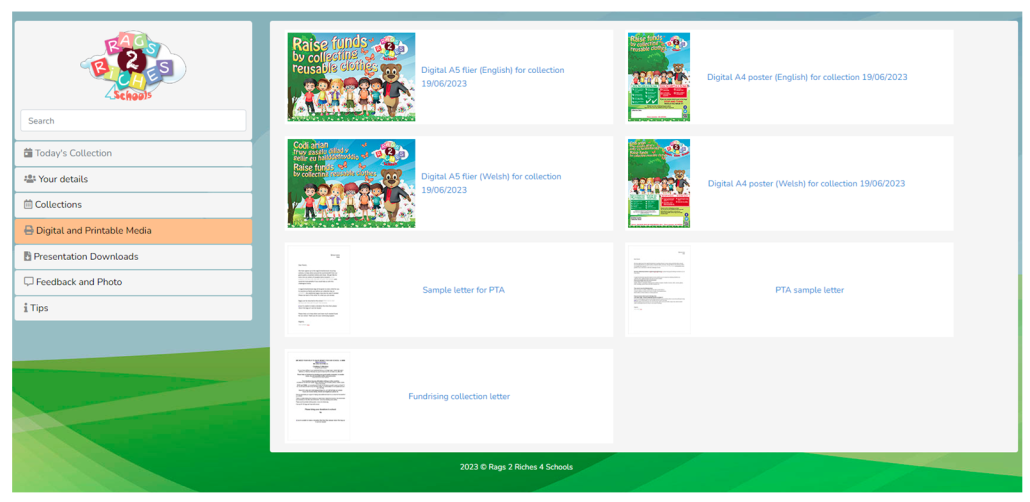 We have created a portal that you can login to and download digital media such as letters, posters, fliers, certificates, power point presentations and much more. You can also see the payment type we have for you, your historic collection values and dates you have already booked for the next few terms. Pretty soon you will even be able to book future collection dates through the portal.

Our web portal is a valuable tool for schools and pta members to provide information and resources related to clothes recycling.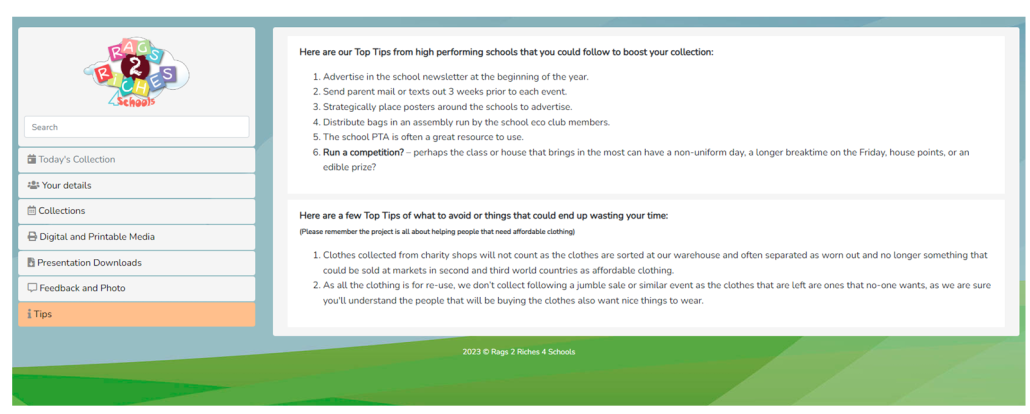 Here are some features and functions that our school's web portal include:
A dedicated section to outline the purpose, goals, and benefits of the clothes recycling project.
Collection Guidelines: Provide clear instructions on what types of clothes are accepted for recycling, any specific sorting requirements, and guidelines for preparing the clothes for donation.
Collection Dates and Locations: A calendar/schedule with upcoming collection dates and locations.
Donation Drop-off: A designated drop-off points within the school premises.
Educational Resources: Bags, flyers, posters, stickers, banners and more
Toptips: A section addressing frequently asked questions along with top tips from us and schools that perform well everytime
Progress Updates: Achievements or milestones reached.
Contact Information: Your contact details for any inquiries, suggestions, or feedback related to the clothes recycling project
.
We are sure this will save you a bunch of time having to make something up your self from scratch.
Here is the link to take you back to the booking form: https://rags2riches4schools.co.uk/requestclothescollection/
If you are wondering what we can collect follow this link: https://rags2riches4schools.co.uk/what-we-collect/
You can check out other recycling projects and stories that other do on twitter: https://twitter.com/home